Diseases of the cardiovascular system are dangerous and unpredictable and very difficult to detect in the initial stages of development. Each year, these diseases claim more than 50,000 lives in Serbia alone.
It is extremely important to know that cardiovascular diseases can be prevented or at least reduced if we take care of how we live and what habits we choose. Healthy food, daily moderate physical activity, avoiding smoking and stress are a sure way to a healthy heart. Because your health is our first priority, Pulse Cardiology Center is giving you 10 free cardiology examinations! In the following text, you can find out how to register and participate in the draw for a gift – a free Total Heart Checkup.
Prevention of cardiovascular diseases plays the most important role in the fight against these fatal diseases. If they do develop, it is possible to spot them in time if we regularly attend preventive cardiology examinations.
The long wait for an appointment in state health institutions usually demotivates people and preventive examinations are usually postponed indefinitely. All this leads to the fact that people only start the process of going for analysis when they feel bad. With heart problems, this usually means that the disease is well advanced and will require serious treatment and possibly intervention.
With us, there is no long wait, you can perform all the necessary examinations on the same day, in the same place, after which you immediately receive a diagnosis and instructions for further treatment.
If the risks for heart disease are determined in time, only changing the lifestyle will be enough, so not every patient will be prescribed therapy after an examination by a cardiologist.
However, we are aware that cardiology examinations in private offices are not so easily accessible to everyone, and that is why we want to offer a free Total Heart Examination to those who need it the most.
A total heart examination is a package of examinations and analysis that gives the best picture of the condition of your heart.
We care about the health of our compatriots, and we want to help, we want to further contribute to the fight against cardiovascular diseases.
Who is the Total Cardiac Examination intended for?
A total heart examination is intended for absolutely everyone, but especially for people who:
are over 30 years old (but they can be younger, because heart diseases are more and more common in younger people as well)
they belong to one of the risk groups for the development of cardiovascular diseases (they smoke, are obese, inactive, have diabetes, dyslipidemia, have family members with heart problems, are exposed to stress or already have some symptom of heart disease).
What does a Total Cardiac Examination include?
A total heart examination is a package made up of the key analyzes needed to diagnose heart problems and includes: risk assessment for cardiovascular diseases, complete blood analysis, EKG, ultrasound and stress test.
Cardiovascular disease risk assessment
Based on information about your lifestyle, existing diseases and overall condition, the doctor will assess your risk for developing heart disease. Prevention of cardiovascular diseases will be much better organized and more successful if the patient knows what kind of risk he is at and what he needs to change in his life.
Blood flows through the entire body and if changes occur somewhere, it will be reflected in the blood. A complete blood analysis includes a complete blood count with leukocytes, CRP, sedimentation, Glycemia, Urea, Creatinine, Cholesterol, AST, ALT, GGT, Sodium and Potassium. All these values ​​will give our cardiologist important information on the basis of which he will know in which direction further analyzes should proceed.
ECG of the heart (electrocardiogram)
The ECG is a graphic representation of the electrical activity of the patient's heart. It belongs to the non-invasive and extremely important methods of examining the heart's work because it can indicate irregularities in its work. It is important for detecting whether the heart is beating fast, slow or irregular in any way.
No special preparations are needed for an ECG of the heart, only if you are using any therapy you should ask your doctor if you need to take it.
During the examination, electrodes will be taped to your chest and limbs to measure your heart rate. On the computer, this information will appear and be recorded in the form of waves.
An ECG takes a few minutes and you get the results immediately. Our friendly experts will explain what your results mean and whether further analysis may be required.
Ultrasound of the heart (ECHO of the heart or echocardiography)
Heart echo is also a non-invasive, harmless, painless diagnostic method, which can be repeated without any health risks.
Only in the case when transesophageal echocardiography is performed, the procedure is different and the method is invasive.
In most cases, a standard transthoracic echocardiography will be performed, when the ultrasound probe is simply placed on the patient's chest, and there is no pain or discomfort.
During the examination, the patient should take off the upper part of his clothes and lie down on the bed. After that, the doctor puts the gel on the probe, and uses the probe to spread the gel over the chest. The patient should be calm, and the doctor may ask him to breathe in a certain way.
Ultrasound of the heart provides information about the structure of the heart, localization, the way the atria and ventricles function, whether there is fluid around the heart, whether the tissue is damaged.
With this diagnostic method, it is possible to detect tissue damage, detect congenital anomalies and problems on valves and cavities.
There is no need for special preparation before an ultrasound of the heart, and it is done quickly and the results are available immediately.
Load test (ergo-test or ergometry)
This is another method that is often performed and that provides important information about the work of the heart in a state of stress, i.e. effort.
During the examination, the patient will walk on a treadmill or ride a bicycle, while the doctor will monitor his heart rate and blood pressure. The effort will be gradually increased, but the intensity will be taken into account because not every patient can be exposed to the same load.
The stress test is used to detect and monitor diseases that involve the narrowing of blood vessels, to register arrhythmias, but also to monitor the effects of heart disease treatment.
When you come to the exercise test, check if you need to take regular therapy, don't eat two or three hours before, bring a pump if you use one and dress comfortably.
Leave the rest to our well-coordinated team.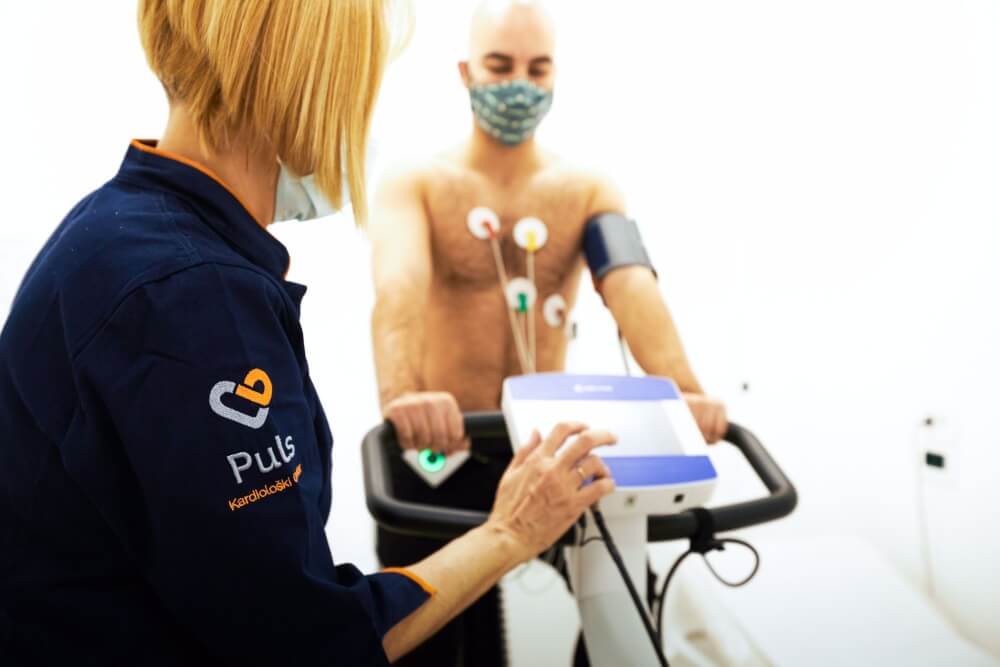 At Pulse Cardiology Center, it is possible to perform all these analyzes during the same day. The results will be available to you immediately and you will receive important tips and guidance from our top experts.
A total heart exam is a comprehensive package of tests that will provide important information about the health of your heart. The price of the package is 15,000 dinars, and for the 10 winners of our competition, the total heart examination will be free of charge.
Free Total Cardiac Examination – rules of the prize competition
A preventive cardiac examination is one of the most important things you can do for your health. If you've been putting it off until now, now is the time to do something for yourself.
We are giving you 10 Total Heart Checkups!
If you want to participate in the prize competition and win a free preview, you should do the following:
follow us on Instagram @puls_kardioloski_centar
like the giveaway post and tag three people in the comments who would need a review
Dr. Svetislav Mališić, a cardiologist with fifteen years of experience, will perform free total heart examinations.
Duration of the prize competition
The prize contest lasts from June 2 to June 9, 2021. You will be able to follow the draw on June 9 at 3 p.m. via Instagram stories, winners will be drawn via the #randompicker platform.
The 10 lucky winners of a free Total Heart Screening must make appointments over the phone and use their appointment within one month of the prize draw.
When making an appointment, mention that you received the review as a gift at the competition.
Pulse Cardiology Center thinks about you and your needs. Our goal is to raise awareness of the importance of preventing cardiovascular diseases and the importance of preventive examinations in that process.
We are here to show you the path to health.
Good luck!