It's true that your first cardiologist visit may seem scary. However, keep in mind that this is the best way to address potential symptoms you've been having or do the much-needed checkup in case of a family history of cardiovascular problems. In the end, the results may show your heart is completely healthy. Or, you might be able to prevent any serious complications from occurring by learning about your current condition. To make things easier for you, let's see what you can expect from your first visit to a cardiologist.
Who is a Cardiologist?
A cardiologist is a doctor who specializes in dealing with the cardiovascular system – heart and blood vessels. Essentially, they can diagnose and treat patients who show signs and symptoms of all sorts of cardiovascular diseases and other issues. They can also assess potential risk factors based on the patient's family history and lifestyle in order to help them take better care of their health by providing adequate measures that the patient needs to take.
What does a Cardiologist do?
Cardiologists have enough qualifications to diagnose and treat all heart-related issues such as heart attack and failure, arrhythmia, heart valve disease, as well as high blood pressure. In order to properly diagnose the patient, the cardiologist doctor can order tests and give a thorough physical exam. The cardiologist exam often involves EKG (electrocardiogram), exercise stress testing, and blood tests, and they can interpret the results. Cardiologists can also prescribe adequate measures for the patient to take, such as proper medication, lifestyle change, adequate diet and exercise, and so on. If necessary, the cardiologist can also set up a pacemaker or cardiac catheter.
Reasons to see a Cardiologist
There are several symptoms that may point to a heart problem. If a patient is experiencing the following symptoms, they should see a cardiologist as soon as possible.
Shortness of breath: the inability to breathe properly or catch a breath can be a sign of a serious underlying heart issue.

Dizziness: feeling dizzy as if there's a kind of a spinning sensation in the head may point to several health problems, and it can also be a sign of heart disease.

Fainting: the mentioned dizziness can lead to fainting; a person could faint for a variety of different reasons, but if the fainting spells persist, they might be caused by a cardiovascular problem.

Chest pain: even though not all chest pains are caused by a heart problem, it can also be a sign of angina, i.e. the lack of oxygen in the heart; it's not uncommon for these chest pains to spread to the arm, shoulder, and jaw in this case.

Heart flutters: heart fluttering may be experienced as palpitations, heart racing, heart skipping a beat, or erratic thumping in the chest that could all relate to heart disease.
What to expect from your first Cardiologist visit?
Before you arrive at the hospital to see a cardiologist, do your best to plan your arrival at least 15 minutes earlier. This could prove to be rather beneficial as there's a chance you'll have to spend some time filling out paperwork. 
Most doctor's appointments start with an initial checkup with the nurse. The nurse will probably ask some questions to fully assess the patient's condition as well as get the needed personal details. The patient will have their vitals checked as well. That said, the patient may expect this first stage of appointment to consist of explaining the reason for the visit, measuring the blood pressure, weighing, as well as inquiring about personal/family history and current medication. Answering all the questions honestly is crucial as the doctor will use the patient's answers to better diagnose and assess their condition.
When the patient goes through the initial nurse checkup and provides the necessary information, they will see the cardiologist. Depending on the clinic/hospital that the patient visits as well as the reason for the visit in the first place, the doctor may see them in a separate patient office or their own office at their desk. After the patient and doctor go over the reason for the appointment, the doctor may order several tests to be done. These include:
Blood tests

Urinalysis

Echocardiogram

CT, PET, or MRI scan

Coronary angiogram

A stress test on a treadmill

Non-stress test on a chair

Nuclear stress test or echo stress test
Some tests provide results immediately, which will allow the doctor to prescribe the right meds and/or lifestyle changes during the first visit. In case additional tests need to be done, the cardiologist will refer the patient to available labs. If this is the case, it's recommended to proceed with the testing as soon as you leave the doctor's office. Also, the patient will probably need a follow-up appointment, if not for the additional testing then to check up on their health and reaction to the prescribed measures. Make sure to schedule this next appointment once done with the first visit to ensure you get a booking soon enough.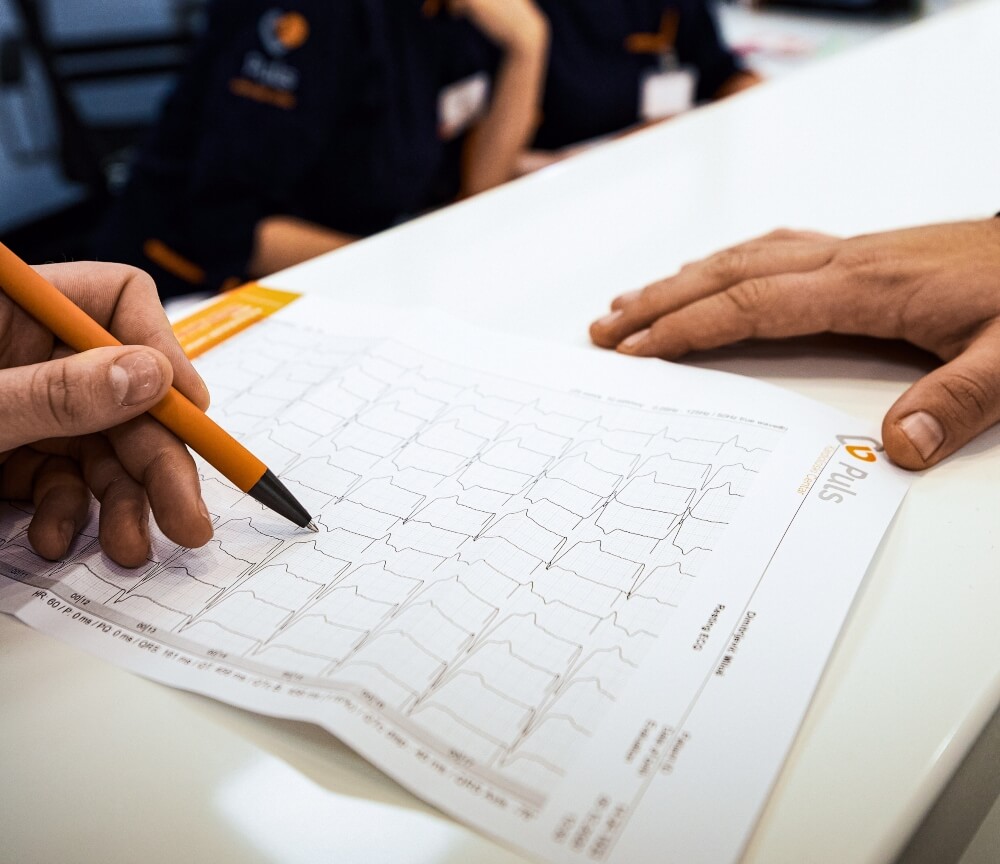 How to prepare for the first Cardiologist visit
Instead of wasting time during your first visit to a cardiologist by trying to remember all the necessary information, you can prepare for it in advance. That said, make it a point to do the following:
Create a list of the meds you're currently taking, including the vitamins, supplements, and other over-the-counter drugs.

Write down all of the allergies you suffer from and allergic reactions you experienced from certain medications.

Note down all of your healthcare providers, from the primary care doctor to specialists.

List all of the health issues you were dealing with or currently suffer from as well as any surgeries you had.

Point out whether there's a family history of heart disease as well as all other heart-related issues such as high blood pressure, high cholesterol, and so on.

If you have any previous test results or screenings, make sure to bring them with you.

In case you have any questions for the cardiologists, write those down as well.
Don't stress about it
One of the biggest health enemies of today is stress, especially when it comes to heart health. Just because you have to see a cardiologist doesn't mean the situation can't be remedied. Your doctor is there to help you and, therefore, there's no need to fear this appointment and get your stress levels high. What's more, if you approach this visit with a calm mind, your test results will also provide a more accurate reading.
If it's necessary to visit a cardiologist, we at Pulse Cardiology Center are here to take care of you. You can expect highly trained and experienced staff together with the latest equipment that allows us to run all the necessary tests in-house. Furthermore, the results of the tests are available on the same day. Don't hesitate to get in touch with us – schedule your examination within 24 hours and get it done within 48 hours.