State-of-the-art cardiac care available at Pulse Cardiology Center
Pulse Cardiology Center provides its patients with hospital treatment services in a very modern and comfortable atmoshpere. We have always been guided by the idea that the most important thing for cardiac patients is to receive swift and caring services, to have the possibility of complete diagnostics in one place, with modern and precise equipment. Lastly, that all this is provided by a complete medical team of respected experts.
FAST RECEPTION – THE MOST MODERN EQUIPMENT – EXPERIENCED TEAM – ALL IN ONE PLACE
Fast Diagnostics and Diagnosis in 2 Hours
We use the Dutch concept of fast-tracking which includes two fully equipped fast cardio lanes. This model allows us very fast, accurate and complete diagnostics within 2 hours.
Day Hospital – The Highest Standards in Treatment
In case we diagnose any condition that requires observation, swift reaction, and immediate therapy, we accommodate those patients in our Day Hospital, where the patient's condition is constantly monitored.
The patient receives the necessary, professional care, and is released home soon after their condition improves or stabilizes.
This will not only shorten the time spent in the emergency department to get a clear diagnosis and therapy but will also save you a lot of money and unnecessary hospital stays for several days.
If your condition requires additional care and an intervention is needed – our experienced team will make sure to perform the necessary steps in our fully equipped Cath-lab as soon as possible.
We perform all procedures minimally invasively, so the interventions last shorter. The patients are awake during the procedure, and after them, they usually go home the same day.
Recovery time is drastically less compared to classic interventions.
Who Can Be Admitted to a Day Hospital?
The day hospital is intended for patients who have:
Chest pain
Suspected heart attack
Heart rhythm disorder
Weakening of the heart
Hypertensive crises
Post Covid complication
Other heart problems
The most common symptoms for admission to a Day Hospital
The most common symptoms reported by our patients are:
Chest pain, headache, choking, skipping a heartbeat, rapid heartbeat, dizziness, fainting, fatigue, feeling of instability, shortness of breath, swelling of the legs, tingling in the hands, tightness in the jaw.
Available Doctors in a Day Hospital:
General practitioner
Internal medicine specialist
Cardiologist
Interventional cardiologist
Available for consultations: neurologist, radiologist, vascular surgeon
Day Hospital – The Care Your Loved Ones Deserve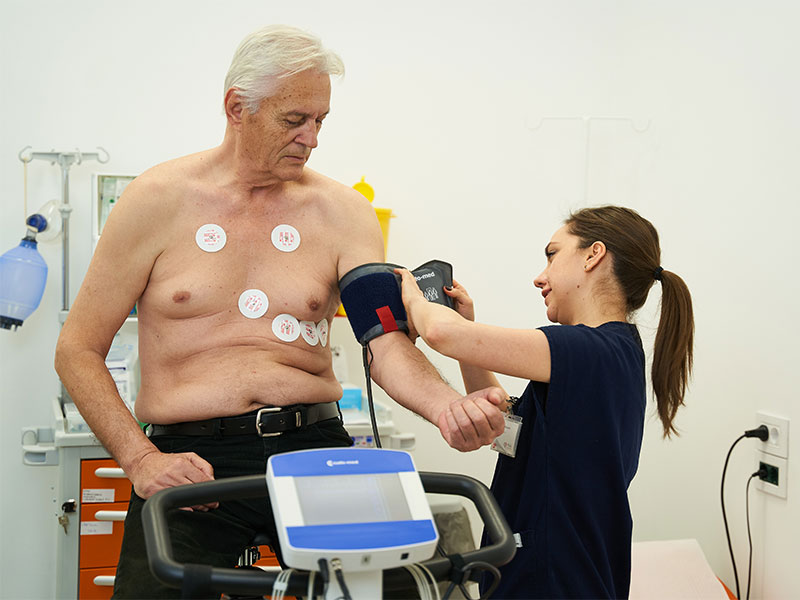 For all patients who come from outside of Belgrade or your loved ones who do not have free time to spend the whole day on examinations with you, we are here.
We take care of your parents, grandparents, family members, or loved ones while you go back to your daily commitments. We will do our best to provide them with adequate therapy, the best care and to improve their condition during the day. Reception in the morning, a departure from the hospital after the consultation with a doctor.
All in One Place
Examinations, complete diagnostics, diagnosis in 2 hours, CT scan diagnostics, Cath-lab and Day Hospital.
Everything you need for a healthy heart in one place at Pulse Cardiology Center.
State-of-the-art Equipment
ECG and ultrasound devices of the latest generation. Complete load test equipment. The latest CT scanner – 128multilays Philips Incisive. Fully equipped Cath-lab for all interventional procedures: cardiac catheterization – coronary angiography, stent implantation, pacemaker implantation and control, endovascular treatment of the abdominal and thoracic aorta, embolization of cerebral aneurysms, and many others. Here at Pulse Cardiology Center, we have formed the most advanced Day Hospital for taking care of patients with cardiac problems.
Experienced Team of Experts
A professional team of cardiologists, interventional cardiologists, arrhythmologists, neurologists, radiologists, and vascular surgery specialists under one roof provides us with expertise.
Our seasoned professionals perform all examinations and services very quickly. The Dutch model of swift cardiac diagnostics and cooperation with colleagues from the most successful cardiology network in the Netherlands – CCN ( Cardiologie Center Nederland ) enables us to bring the highest medical standards to Serbia and justify the epithet of the most modern cardiology institution in the region.
Call us on 011 7 555 000 and check out why we are leaders in providing cardiovascular care.
Day hospital – VIDEO