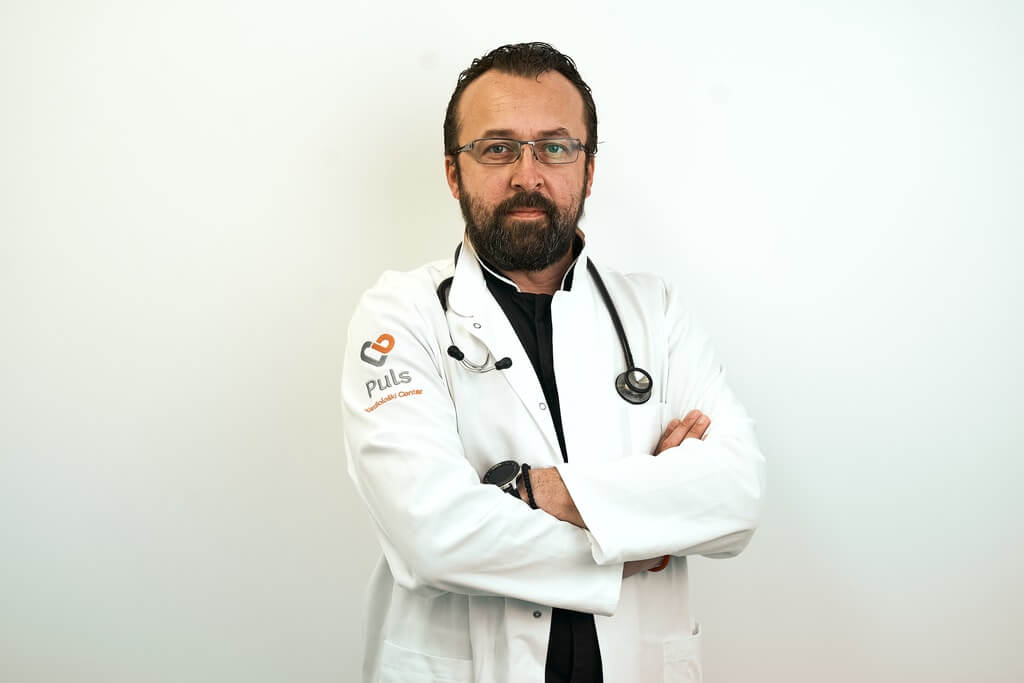 Specific professional orientation:
Internal medicine medical specialist, cardiology subspecialist with more than 15 years of experience in cardio-vascular diagnostics. Expertise includes non-invasive cardio-vascular diagnostics (color Doppler echocardiography, vascular ultrasonography). Committed to healthcare improvement through everlasting personal and professional development.
Education:
2015-2016 University of Belgrade School of Medicine – Cardiology, Grade: Subspeciality
2011-2014 Faculty of medical sciencies, University of Kragujevac PhD, Ph.D. Studies in Cardiology
2001-2006 Military Medical Academy, Belgrade, Serbia  – internal medicine studies
1992 – 1999 Medical Faculty, University of Priština – Doctor of Medicine (MD), Medical Sciences
2008 – Echocardiography – basic course Clinical Centre of Serbia, Belgrade, Serbia
2009 – School for angiology ultrasonography diagnostics – Institute for cardiovascular diseases Dedinje, Belgrade, Ser
Job:
2021 – Cardiologist at Pulse cardiology center, Belgrade
2007-2021 MD, Specialist for internal medicine, Cardiology at Nasa poliklinika "Dr Rodoljub Ristic", Belgrade
2006-2007 MD, Specialist for internal medicine at "General Hospital Zemun", Belgrade – Duties of I.M. Specialist on geriatric dept.
2001-2006 MD, Internal medicine resident at Miltary Medical Academy Belgrade

Memberships:
Serbian Medical Society
Cardiology Society of Serbia
European Society of Cardiology
Echocardiographic Society of Serbia
EACVI member
HFA member
Interests:
Echocardiography, Internal Medicine, Cardiology, Vascular medicine, Clinical Cardiology, Medical Research, Heart Failure, Non-invasive Cardiology, Coronary unit care, Holter Monitoring, Cardiovascular Disease, Hypertension, Coronary Artery Disease, Phlebology, Atrial Fibrillation, Arrhytmias, Myocardial Infarction.

Procedures performed:
Internal medicine and cardiology diagnostics: 24h ECG Holter monitoring; 24h AMBP; Exercise Testing
Cardiology and vascular ultrasound diagnostics: Color Doppler Echocardiography, Ultrasonography of major neck blood vessels, ultrasonography of upper and lower extremity blood vessels, Ultrasonography of abdominal aorta with visceral branches