Low-dose state-of-the-art scanner of the latest generation at the most favorable price in Serbia,
starting from 14,200 dinars with contrast per segment
Doctor's interpretation without waiting
Booking and consultations available 24/7
Call +381 61 2000725
The PULSE Diagnostic Center has a technologically superior, low-dose 128-slice scanner of the latest generation called "Incisive CT Philips", which offers numerous advantages compared to other scanners.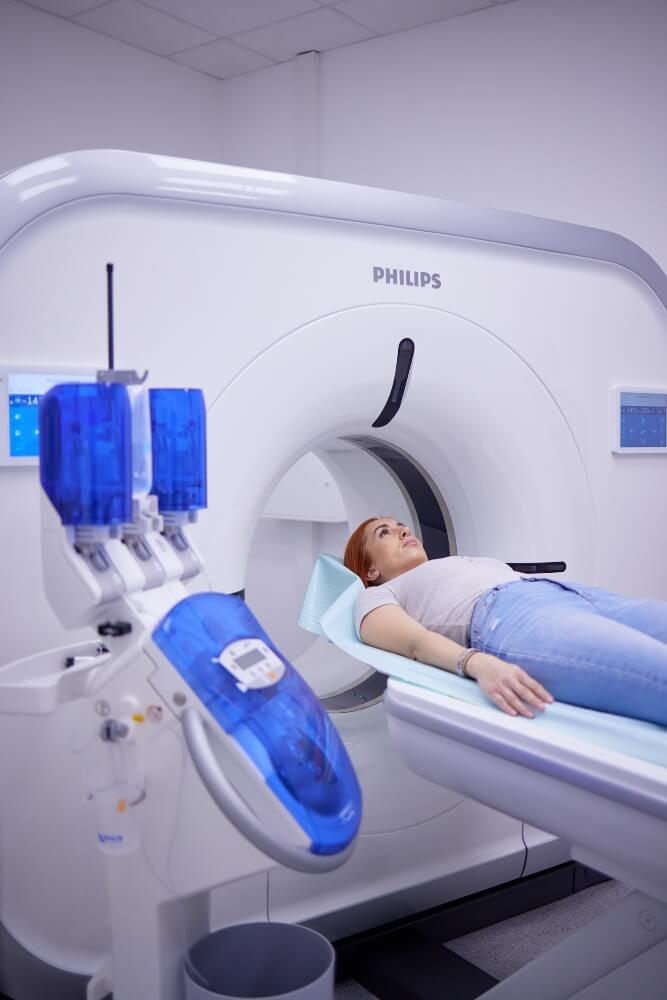 Significantly lower radiation compared to other models
Automatic patient positioning
Designed for wide use and for patients weighing up to 200 kg
Has a large opening of 72 cm, making it suitable for patients with claustrophobia
Performs real-time multi-planar image reconstruction, creating 3D images
Provides clear, precise images of each organ and abnormalities, thanks to the 128-slice rotational reconstruction system
Scanning takes up to 100 seconds.
CT scanner: the most reliable method for diagnosing COVID-related lung inflammation
A chest CT scanner (MDCT – multidetector computed tomography) with over 90% accuracy enables early detection of lung changes caused by the SARS-CoV-2 virus. In comparison, PCR tests yield false-negative results in 19% of cases. The Fleischner Society, a European association for thoracic medicine and radiology, has included CT scanning as the radiological method of choice for detecting pulmonary manifestations of COVID-19.
Only at the Pulse Diagnostic Center – the fastest and safest diagnostics for heart disease
Triple rule out: Fast, reliable, non-invasive detection of the three most common potentially life-threatening causes of acute chest pain.
Price: 41,000 dinars
Schedule an appointment at: +381612000725
Fractional flow reserve (FFR): Non-invasive examination that accurately determines whether there are narrowings in the coronary arteries and, if present, whether they require stent placement or can be treated with medication. In some cases, it can effectively replace invasive coronary angiography.
Price: 36.700 dinars
Schedule an appointment at: +381612000725
Read more about CT scanning diagnostics here: https://pulskardioloskicentar.rs/en/services/ct-scanner/