MD Goran Popović – cardiologist
Dear ladies and gentlemen, good day. Thank you for coming to the opening of the Pulse cardiology center. As you have heard, we started working a little more than nine months ago, in December last year. Those were not very favorable conditions because the Corona virus epidemic was really causing more and more problems for all of us. For us, our cardiology patient still remained in focus and in these nine months we managed to position ourselves in the field of non-invasive and invasive cardiology diagnostics. We enable our patients to receive adequate diagnoses and modern therapies in the shortest period of time, through fast cardiology lanes, in order to preserve their health and the health of their heart.
We register our patients through electronic records at the very entrance to the Center and then move through the fast cardiology lane, which is our specialty and allows for quick diagnostics, to arrive at a diagnosis within a maximum of two hours and provide modern therapy.
We perform a complete cardiology examination, which begins with taking basic data, then with an electrocardiogram – an ECG, which is the main part of the examination itself, we continue with an ultrasound examination of the heart and, if necessary, perform a stress test on the patients. This allows us to diagnose the possible existence of ischemic heart disease, as one of the most common causes for which patients come to us, in a very short period of time. If necessary, we continue diagnostics with a state-of-the-art 128-slice CT scanner and perform scanner coronary angiography, based on which we assess whether the patient needs additional diagnostics.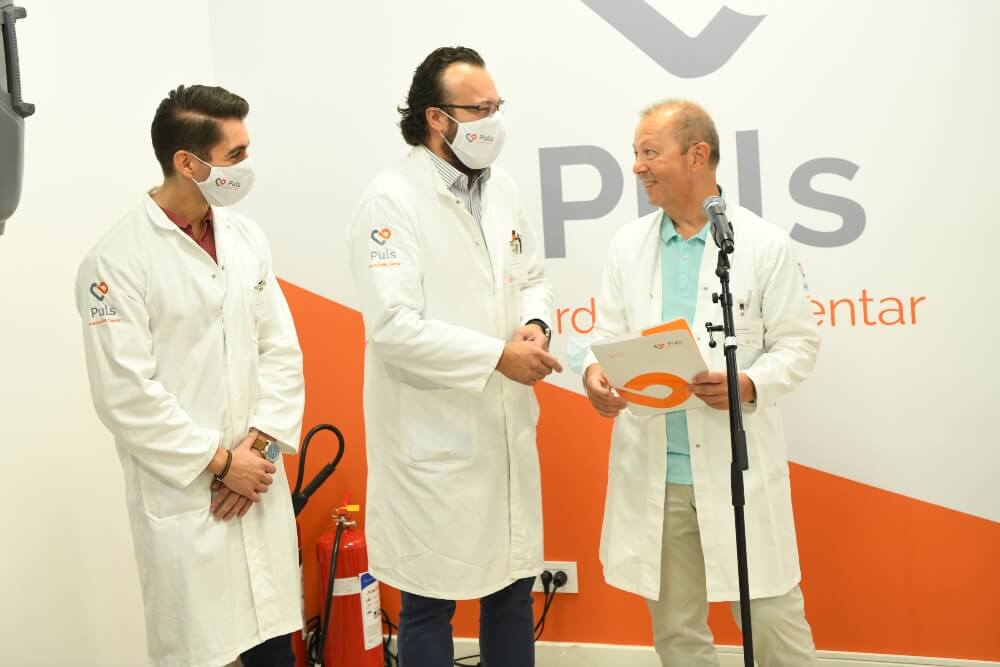 If the patient's condition requires it, we continue working in our angiography room (Cath-lab), where we can perform the complete procedure, including dilation with stent placement. In this way, the patient is quickly taken care of in the shortest possible period of time, he is in safe hands, and if invasive diagnostics are performed, through our day hospital, the patient is observed and monitored for the next few hours, until the complete diagnostics are successfully completed. After that, we continue with permanent monitoring, either in personal contact through control examinations or in telephone or email contact.
Also, a large number of patients who have problems with heart rhythm disorders can be adequately treated through Holter ECG monitoring for 24 hours to seven days. If necessary, our arrhythmologists can perform ablation or DC shock, thus we can solve heart rhythm disorders very quickly and efficiently.
Patients who come with the problem of high blood pressure, wearing a holter blood pressure monitor can be quickly diagnosed and treated, which is especially important for patients who have a problem with high blood pressure for the first time.
We also provide patients with complete diagnostics, laboratory and support related to the Covid system. As you yourself know, a big problem in the past 18 months is Covid diagnostics, and our scanner can also do complete Covid diagnostics and diagnose Covid pneumonia that requires adequate treatment.
Our center is available to patients 24 hours a day and we try and succeed to always put the patient first, which is confirmed by the increasing number of our patients who come forward and show their trust in us by staying with us.
I am glad to be an integral part of this team, which provides not only excellent working conditions and completes our expertise with the best diagnostic equipment, but it is a real pleasure and a great honor to work at Pulse cardiology center.
Welcome to Pulse.